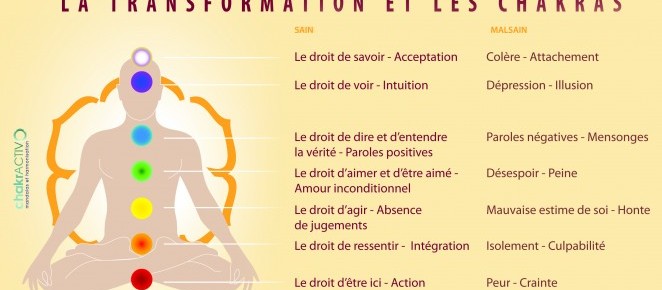 LA TRANSFORMATION ET LES CHAKRAS
LA TRANSFORMATION ET LES CHAKRAS
Des émotions et des états peuvent fermer certains CHAKRAS, s'ils ne sont pas traités adéquatement. Anodea Judith les appelle les « démons » dans son livre Eastern Body, Western Mind. Les démons affectent les « droits » qui sont associes aux CHAKRAS.
On atteint l'équilibre des chakras en travaillant sur un chakra à la fois et un thème à la fois. Chaque état de négativité ou de mauvaise santé correspond à un centre d'énergie particulier, et peut être remédié en changeant la direction et l'activité du centre en question.
Par exemple, quand nous voulons soigner des problèmes liés au chakra racine, le remède aux craintes est l'action. Concernant le 6ème chakra, le remède à la dépression est la créativité, selon l'image.
Leave Reply
You must be logged in to post a comment.