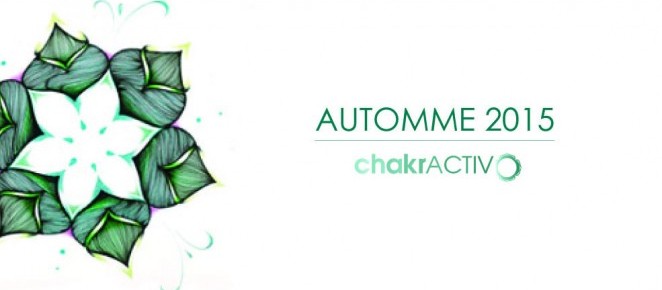 FESTIVALS AUTOMNE 2015
Fin des vacances! Merci a l'univers pour cet été merveilleux!
Et pour l'automne , CHAKRACTIVO continue à bouger :
– 18 au 20 Septembre, dans a peine 15 jours!
nous serons au SALON SANTE NATURE à la Grande Halle de Toulouse/L'Union. Le Salon Santé Nature, le plus vieux salon bio, écolo, bien-être de la région Toulousaine. Un joli programme nous attend ! [ci joint] …. découvrir, partager, s'enrichir dans une halle harmonisée… et plonger dans le monde des Mandalas de CHAKRACTIVO pour revenir a notre sagesse intérieure.
– 27 au 29 Novembre
Symposium International 2015, à Pau, au magnifique Palais Beaumont.
Le thème 2015 : « Nouvelle Conscience, Nouvelle Humanité » (Tous les détails sont sur le site www.symposium-international.com) Conférences, Ateliers, Débats & tables rondes, Expositions, Salon Multiculturel et Multinaturel, et des Mandalas remplis de belle énergie… venez le découvrir !!!!
Et en Décembre, on se voit aux marchés de Noël pour pour s'offrir toujours plus d'énergie positive.
Belle fin de semaine!
Leave Reply
You must be logged in to post a comment.